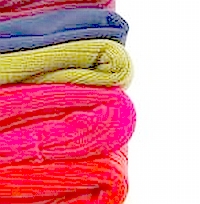 A previous post listed ways to move toward Simple Living. One way I simplified my life last year was to stop buying clothes.
After a year of not buying clothes I have a good sense of the clothes that I wear on a regular basis. It's not very many, about 15 items in all.
It turns out that these pieces work because they are multi-functional, multi-seasonal, easy-care, no-iron and except for the shoes and coats, fit in a pilot carry-on bag.
Basically this selection of clothes requires no dry cleaning, no hosiery, no iron, no belts, no heels, no blazers, no skirts, no dresses and no purses. These items work in hot weather or can be layered for winter. They all travel well too – an added bonus. Here's the list:
3 Pants – denim, grey, black

2 No-iron shirts – white cotton oxford, blue denim

5 T-shirts – white, black, three brightly colored

1 Red(ish) crew neck sweater, 1 red tank top

2 Turtleneck sweaters

2 Cardigans – one black, one grey
Add scarves – use as a bandanna, in place of a necklace or as a wrap, small evening purse (see furoshiki post), shopping bag, belt, or sarong over pants.
Footwear – dark brown casual shoes, black slip-ons, tennis shoes, slippers, boots (winter), sandals (summer).
Outerwear – navy wool pea coat, trench raincoat and brown felt jacket.
Everything goes with everything else. Most of the pieces are basic styles. Easy wash – one load. Natural fabrics. It would be ideal if everything was fair trade – though not everything is. Add socks & underwear. Include gloves and a hat or swimsuit as needed.
So, about just under 20 items, depending on the season. However, there are probably about 40-45 items in my closet in total. But now I see that 20-25 items I almost never use. Time to lighten up, wash them up . . . pass them forward . . . let someone else enjoy and use them.
Of course this is still waaay too much considering the wardrobes of those in the Two-thirds World. What I have in excess doesn't belong to me – it belongs to those who have nothing. If you knew that having  a few less clothes would help someone in your neighborhood have one meal a day to survive you wouldn't hesitate, right? Does it matter that this person is farther away? Of course not! People have a right to food, even if they can't pay for it – by virtue of being human.
Even as a secular society we know this because we don't charge children or those who are sick for their food. Human beings have a right to the basic necessities of life, regardless of their financial situation.
Paring back my wardrobe, then, isn't about sending my excess clothes to another country. That's a bad idea for many reasons, one of which is that sending lots of used clothing to poor countries puts local used clothing businesses out of business.
Instead, donating my clothing to organizations like Good Will helps those who need it locally. It also reminds me to use this money, not for clothes, but to directly help organizations that are working successfully to change the underlying causes of poverty – like Mary's Pence does with their ESPERA Funds – community lending funds for women.
Most of what I have is, in fact, not only excess – but excessive. I'll continue to pare back as I go. It's a process.
What items do you wear most of the time? What would your ideal simple wardrobe be?
Write it down. Work toward making it happen.
Coming soon – Simple Furniture
You may also like The Jewelry We Keep, Closet Check, Fabulous Furoshiki and Simplifying My Wardrobe