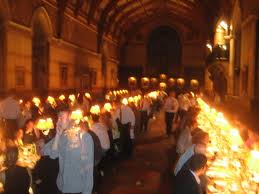 Jesus' image for the Kingdom, salvation or healing and wholeness is most often a wedding banquet, a dinner or a feast. Life can be a feast – if we enter in.
In the gospel of Luke, Jesus moves from one dinner, one feast, to another. The gospel of Luke is a series of dinners, feasts and banquets. Ask yourself "Why?"
Entering into the feast is not about creating a life of comfort. Rather it is about entering more deeply into life and allowing it to wash over us. This is a risk. Life is a risk. God took this same risk in creating a world with free will, a world free to be and to choose. We, in God's image, must also take this risk.
In the gospels, the authors have Jesus using the Greek term metanoia. Originally this was translated as "repent." But the modern meaning of this word means we miss the original meaning. Metanoia means "change your mind" or "see reality differently." Jesus' concern was not that we would do something wrong or "sin." Rather his concern is that we would view life wrongly and miss the feast.
Jesus wanted us to enter into the feast – the feast of life, the feast of the world. All are invited. Think of the movie Harry Potter and the feasts at Hogwarts. This is a marvelous image of a feast! Everyone gathers. There are untold delights to sample, savor and explore. There is abundance – enough for all. Conversations happen. Thoughts and feelings are shared.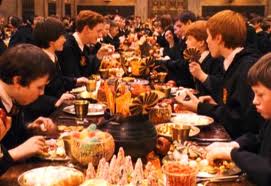 In Jesus' banquets we come to be served and to serve. Serving is how we are re-oriented outward or healed. Healthy relationships must be mutual.
All have a place at the table. Can you change your mind? Can you see the enchanted feast of your life?