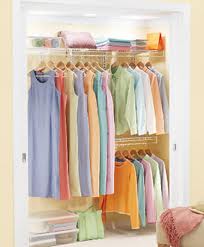 In this year of not buying clothes, I've been trying to simplify my wardrobe. Much has already been accomplished. Clothes I rarely wore or that didn't fit comfortably (read didn't fit flatteringly) were donated. That freed up tons of space in my closet. Then I looked at color. Colors that worked together and looked good on me, I kept. Items in colors that worked with only one or two other items were banished from my closet.
Next I took a good hard look at maintenance. In the apparel industry almost all beautiful fabrics can be made to be machine washable. Even cashmere is now combined with cotton to retain the luxury feel but allow for machine washing. The same goes for wool and silk. So items that need dry cleaning or ironing are really not worth it for me anymore.
So a maintenance view of my closet allowed me to remove items that required dry cleaning or absolutely needed ironing. There are a couple of linen blouses that I sometimes iron. However, they still look good and are wearable even in the "washed linen" state – so I kept them.
Then I took a close look at blazers, dresses and skirts. Basically, I almost never wear them. Recently we went to a wedding – and even then I wore dressy wide-leg slacks. So blazers, dresses and skirts were donated. Without dresses and skirts you really don't need hosiery, slips and high heels. If I don't wear them why have them?
Where to shop? I look for local clothing stores and Fair Trade whenever possible. Trade Winds is a shop I like on Grand Ave. in St. Paul. Beautiful clothing AND Fair Trade. Nearby is Ten Thousand Villages – also Fair Trade.
(As the commenter below mentioned, consider consignment stores and reuse clothing stores. Encore and Elite Repeat in St. Paul carry a nice selection of current women's clothing.)
Currently I don't worry about purses or handbags. I simply don't use them. It's easier to carry a small wallet and my phone in my pocket. Ta da! That eliminates shopping or maintaining a wardrobe of purses.
Numerous pairs of shoes are off my list too. I really only wear the negative heel of Earth shoes because as a professor I am on my feet for three to six hours at a time. They keep my back feeling great. So great, in fact, that I wanted to wear them all the time. In the end about six to eight pairs of shoes (boots, sandals, oxfords, dress, mules and beach sandals) cover +95% of my life. Leather items will be the next place where I take a good, hard, look.
What did I keep were scarves. I adopted the idea of wearing scarves when I lived in Paris many years ago. French women make excellent use of scarves as they have high quality – but limited item wardrobes. Scarves are a great way to add the latest color or look to any wardrobe inexpensively. They can work as a necklace or around your waist or over slacks as a sarong. They protect my neck and shoulders from the sun in the summer. As a fair-skinned person this is VERY important. And of course if you saw my furoshiki post, you know that scarves can even be pressed into service as a shopping bag or evening bag.
The end result of all of this is that getting dressed has become really easy. I enjoy what I wear and feel good in it. It looks good too. Space and time have been added to my life. I like that!
Maybe my next post on simplifying my wardrobe I will post an actual picture of my closet. It's getting to the point where I really could!
So this is what I've accomplished so far. These ideas work for me – but certainly won't work for everyone. What do you think? Do any of these ideas work for you? Do you have other suggestions or ideas?
You may also like Simplify, Simplify, Simplify, Closet Check and Easy, Summer Travel Wardrobe.