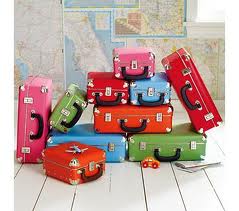 Check out Miss Minimalist's complete 10-item wardrobe. Yes . . . well I'm not there yet, but it is inspiring.
At a minimum (couldn't resist) it's a great travel wardrobe. This summer, don't check your luggage, travel light.
For myself, I would exchange her dress and skirt for two additional pants. Still, it works.
In fact, when I traveled for an extended period to France and Israel, my wardrobe was this:
3 pairs of slacks (khaki, black and white)
3 long sleeve solid t-shirts
3 tank tops (in compatible solid colors to wear alone or under the T-shirts)
1 lightweight jacket
1 large scarf (to use as a shawl, sarong over the pants or as a furoshiki bag),
2 pairs of shoes: dress sandals, walking shoes
1 swimsuit. Sunglasses. No purse.
These items take up almost no room. They wash and dry easily. You can travel almost endlessly (or for at least 6 weeks as I did) on this wardrobe. It all fits in a small pilot bag and will take you just about anywhere this summer.
Or maybe let it take you on an exploration of the world for 15 years, as Rita Golden Gelman did in Tales of a Female Nomad. Check your library for a copy.
Life is short. Bon voyage!
You may also like Fabulous Furoshiki, The Richness of Simplicity, Simplify, Simplify, Simplify, Antique Bookstores in Paris and Pura Vida!