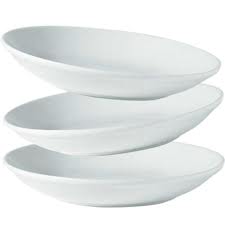 Around our small townhouse these days, simplicity looks like this:
Eliminate an entire set of dishes. Just because retailers and manufacturers try to get us to buy entire sets of dinnerware doesn't mean we have to. Buy only those dishes that work for you. We have discovered that using these plain, white, porcelain low bowls replaces dinner plates, salad plates and soup bowls. At 10″ diameter, they are durable and inexpensive at $2 to $3 each. You can find them at IKEA, Pottery Barn, West Elm or Crate & Barrel. This clears out an entire shelf in my kitchen cabinet. There is an added benefit. If we eat in the living room or serve many buffet style, the scooped edges keep food and sauces in the bowl and off your lap or napkin. We stack six of them in the corner of our kitchen counter for easy access. This corner is otherwise wasted space. Best of all, because they are inexpensive, if one breaks it's not a disaster. Simply buy one more.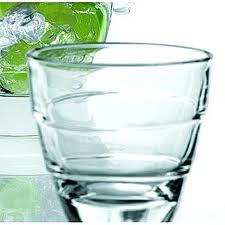 Right now I am looking for thick-walled clear glass tumblers to use for both hot and cold drinks. Hopefully with a wider base than the picture above so they won't tip easily. This would eliminate a miriad of mugs, wine glasses, cold drink glasses, etc. If you use cups with saucers, it would eliminate those too. Again one item, many uses. Kitchen shelves with space here we come!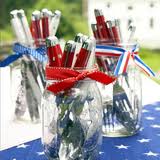 Similar to this picture, we are using three tall glasses to hold forks, spoons and knives for quick use on our counter top. This makes our ONE large kitchen drawer available for knives and other utensils. Of course jam jars, canning jars or even antique tea tins could serve the same purpose.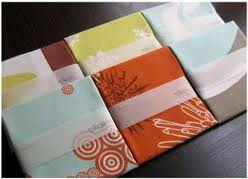 These sturdy, but beautiful cotton dish towels in bright, seasonal colors function as kitchen towels but also as cloth dinner napkins. Look for a flat weave or jacquard weave. One item, two uses. They are often on sale this time of year.
NET: avoid single-use items.
For other voluntary simplicity ideas watch Annie Leonard's video Story of Stuff here or read: How Much is Enough?, Simpler Living, Compassionate Life or Deep Economy.
Please pass along your ideas. Leave a comment.
You may also like Simplifying My Wardrobe and Simplifying the Kitchen and The Jewelry We Keep.