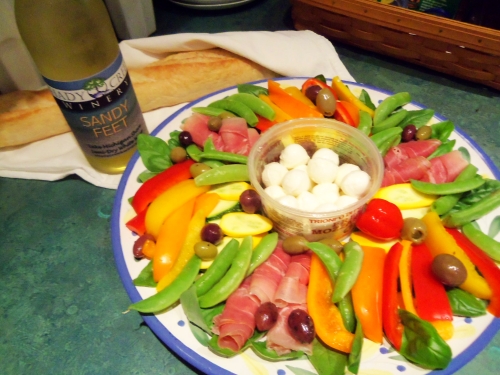 Last Friday was fabulous because we spent an evening with good friends. Conversation was wonderful. Weather was perfect. Great food that required no cooking and no sit-down dining.
The setting was nice too. Part of the evening we were on the patio. This particular patio had groupings of pots full of plants in full bloom.
One friend brought chilled shrimp cocktail. Crackers with creamy cheese and spicy jam tasted great. Our hostess provided cantaloupe cubes wrapped in prosciutto and a eye-popping trifle for dessert. Everyone contributed various chilled, white wines for this warm summer evening.
An antipasto platter using in-season vegies from the Farmers' Market was my contribution: fresh basil, summer squash slices, snap peas. Then I added rolled slices of prosciutto, Greek olives, sweet peppers and baby mozzarella balls. Pretty easy, transported well and no cooking required.
Adding a bottle of Sandy Feet semi-dry, white wine from Shady Creek Winery near the dunes in Indiana reminded me of days by the beachy, Indiana dunes of Lake Michigan.
Lively, relaxed and fun. I LOVE summer. Fill your life with fabulous.
You may also like Fill Your Life With Fabulous, Introducing Fabulous Fridays and The Sounds of Music.