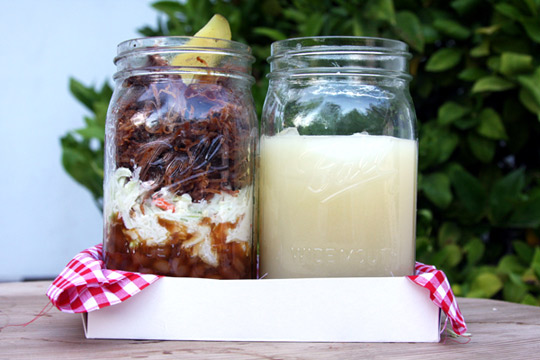 Picnic months have finally arrived!  Picnic in a Jar. Now this is a great idea for those of us with plenty of canning jars taking up shelf space.
Here it's pictured with BBQ beef, coleslaw and baked beans. But why not chili, cheddar cheese, sourcream & cornbread on top, or chicken & rice salad with sliced apples, or a fresh pita quarters with spicy hummus and olives?
Instead of lemonade, I would put lemonana in the second jar. Lemonana is the Israeli answer to sweltering desert summertime heat.
Recipe: Make fresh lemonade. Pour into a jar or water bottle that can go in the freezer. Leave room at the top of the jar for expansion in the freezer. Stuff the jar of lemonade with a handful of fresh mint. Freeze.
Take with you for the day. Enjoy it as it melts. Keep it in your car while you run errands. It will stay cold and fresh until the end of the day. You stay refreshed and hydrated.
For mouth-watering summer meals – fast, easy and delicious check here.
You may also like Super Easy Crockpot Lasagna, Babette's Feast and Fun Edible Gifts to Make.