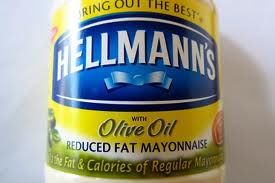 Wow. Unbelievable. Today I received coupons in the mail from my health insurance provider –  Blue Cross Blue Shield. The coupons were for fat-loaded, sweetener-filled junk foods that should not be part of anyone's healthy diet: Sweet Freedom Ice Cream Bars, Fudge Lites and Ice Cream, Weight Watchers Ice Cream Sandwiches,  C&H and Domino Sugar Blends and Hellmann's Mayonnaise Dressing with Olive Oil. Really?? I should be loading up my diet with sugary snacks, processed food and olive-oil-fat-filled mayo?
Why isn't Blue Cross promoting healthy hummus instead of mayo? Or frozen vegie-fruit smoothies instead of ice cream junk food?
Because Blue Cross is in bed with big food corporations and the $$$ that mailing coupons for these corporations produces. Further, as a healthy person I don't generate much income for health insurance companies (healthy people have lower premiums), health care services, or the drug industry. To increase their profit margins it is much better for me to be chronically sick, taking diabetes, blood pressure or cholesterol medications – ideally for the rest of my life.
How best to do this? Promote bad health, of course! Junk food coupons – here we come! Worse, I'm paying the cost for this unethical marketing with my insurance premiums.
Don't assume your health insurance or health care providers are even remotely interested in maintaining your good health. Always ask, "Who benefits?"
You may also like Lunch To Go and Mango Delight.