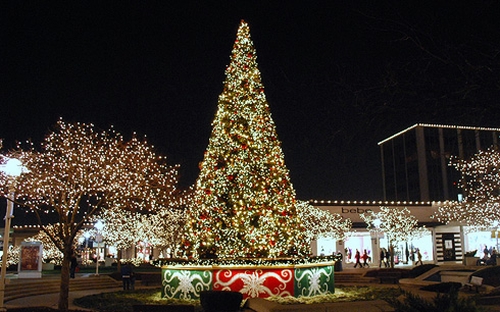 This post begins a series that will look at Christmas past, present and future. Part of it will be a bit of memoir, part of it will be current experiences and part will be envisioning the future. These posts will occur throughout the Christmas season until it ends in January.
I'd like to begin with Christmas Past. One of the best experiences of my life was being a parent. While I know this isn't the best choice or even possible for everyone – it was a good experience for me. And one of my best memories as a parent was the annual ritual of taking my oldest daughter, when she was maybe five to ten years old, Christmas shopping at Oakbrook Center, at night. Some years it would even be snowing as we walked outside, from store to store. The giant Christmas tree was lit in the center. Christmas music was playing. Her eyes sparkled as we walked along, crunching the snow under our boots.
One thing I remember was hoisting her up on a stool at the make-up counter at Marshall Field's (now long gone). The sales woman put a bit of blush on her cheeks and gloss on her lips. My daughter beamed – such a grown-up thing to do when you are young! Leaving the store we sampled colognes and hand creams, looked at jewelry and scarves. She chattered away as we walked along.
The purpose of the trip was so that she could do her Christmas shopping. Some of her gifts she had already purchased at her school where each year they held a small Christmas bazaar. Here children could shop for their parents, siblings and grandparents. But some gifts needed to be purchased at the mall. She had saved her money for the gifts she had in mind. She was careful to select gifts that would actually be used and enjoyed. Sometimes she also helped me pick out gifts on my list – but that was not our real reason for being there. Mostly I simply enjoyed being with her, watching her shop, and seeing winter and the Christmas season through her eyes.
For me, that was the amazing gift of parenthood, being able to see the world brand new, through the bright, wide eyes of your child.
You may also like The Jewelry We Keep and What Is Your Story?