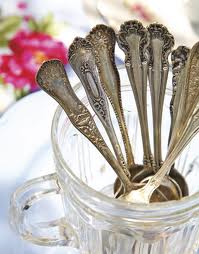 It is a hot, dry day in Jerusalem. Afternoon light pours in through the curtains and spills onto the terrazzo floor. There is a thick layer of dust on the sofa, chairs, tables and bookshelves. Artwork hangs from every wall. The chest holds beautiful linens and a drawer full of silver, serving bowls and carvings.
The room seems to echo. An entire life happened here. But now everything must be moved out. The house has been sold. We can only take what will fit in the two large suitcases.
Silently we take the art out of their frames. I am tired from packing. Thirsty, too, from the heat and the dust. Finally the last serving pieces and silverware are placed in a leather duffel. It will be left with friends. Picking up the eight, tiny silver spoons, I wrap them in a linen napkin and place them in my purse.
You may also like What is Your Story?