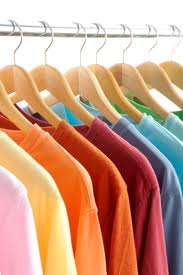 This article from Everything Yoga Blog asks where our yoga clothes come from. It was a good article as far as it went. Knowing the country of origin is important. But the author should have gone further. It's not enough to know where our clothes come from. Singapore, China, India — it doesn't really matter. What does matter is this – were the people who made these clothes paid a fair and living wage? Were they provided with good working conditions? Were they adults or children forced to work instead of going to school? Of course, we should also ask, what is the environmental impact of the clothes we buy? These are the questions we should be asking.
Truthfully, we should be asking these questions for everything we buy. We have a moral responsibility to ask these questions and require that answers be provided in order to make a decision to purchase. Once we know, we have a moral responsibility to purchase accordingly.
Watch this movie about the U.S. apparel industry, Made in L.A. to learn how three young women changed the industry. Be inspired!
We vote for a just world with every dollar we spend.
Follow-up article – this article details the toxic and banned chemicals showing up in clothes made by major clothing manufacturers. Because they are manufactured and shipped from overseas, the clothes arrive with the toxic chemicals already on them. They leach into our environment and onto our bodies when we wear and wash them.
"Samples of clothing from top brands including Adidas, Uniqlo, Calvin Klein, H&M, Abercrombie & Fitch, Lacoste, Converse and Ralph Lauren were found to be tainted with the chemicals, known as nonylphenol ethoxylates, the watchdog said at the launch of its report "Dirty Laundry 2".
You may also like Kowalski's Grocery Store and Fiji Water, Element a Green Hotel in Dallas Snow-Over and From Dublin to Juarez.