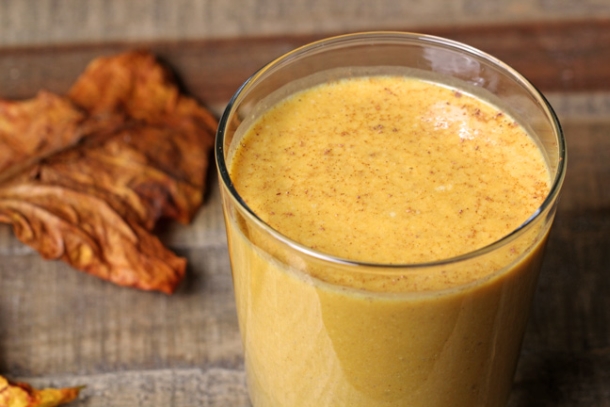 Today I tried something new in the smoothie arena. If you've been reading this blog you know that I have been experimenting with smoothies for awhile now as a way to eat healthier and tastier.
Now that we are in the season of squashes – particularly pumpkins – why not try a smoothie that tastes like a pumpkin pie? I did. It was fast and easy.
1 14 oz. can of cooked pumpkin (or 2 cups fresh, cooked pumpkin)
2 cups kefir (creamy plain yogurt or silken tofu could be substitutes)
2 tbsp maple syrup (honey could be a substitute)
1/2 tsp salt
pumpkin pie spices to taste: ground cinnamon, ginger & cloves
Combine all ingredients in blender and puree. Makes 2-3 servings. That's it. Drink up.
The kefir adds a whipped-creamy taste to the pumpkin. The spices make it taste like a slice of pumpkin pie in a glass – but without the fat, carbs and salt.
The smoothie will look identical to the photo above – even though that is a different recipe – "pumpkin spice smoothie" that also looks like it would be good to try. You can find it at For the Love of Food Blog here.
You may also like Vegie Smoothies and Grand Marais.