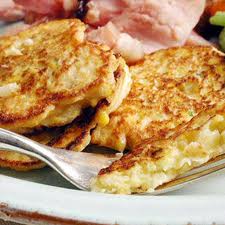 This time of year is the time for soups, stews, chilies. But it is also the time of year for other comfort foods that might not so readily come to mind like corn cakes. The world's ultimate corn cakes can be enjoyed at Maria's Cafe on Franklin Avenue in Minneapolis. But if you can't get there you can make your own that taste nearly as good.
Into a bowl put 1 cup flour, 1/2 corn meal, 2 tsp baking soda, 1 egg and  1 14 oz can corn – liquid too and mix with a whisk. Add milk to desired consistency. Ladle onto a medium hot skillet that has been lightly seasoned with a little vegetable oil. Flip when the pancake bubbles. Serve steaming with a dollop of Greek yogurt sprinkled with sunflower seeds. Mm mm.
You can improvise by adding grated orange rind & cinnamon, jalapenos or cayenne to the flour before adding the wet ingredients.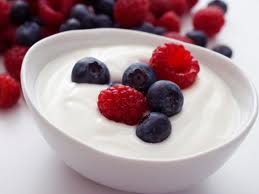 And top your hot corn cakes with your own rich and creamy Greek yogurt. An easy yogurt recipe (and great photos) can be found at this post over at A Beach Cottage. It is similar to other yogurt recipes I have used. For Greek yogurt modify this recipe by beginning with a single serving container of Greek yogurt and a quart of milk (whole or 2%).
Pour the milk into a pan and heat until just simmering. Cool for 40 minutes. Blend in 3 tablespoons of Greek yogurt at room temperature. Cover and place in a warm space. I use my electric oven with the light on inside. Leave overnight. That's it.
Voila! Delicious Greek yogurt. Be sure to reserve the last 3 tbsp so you can make another batch. Top the corncakes above with a spoonful.
Use it in place of sour cream or half & half in gravy and soups. It also works in place of whipped cream on desserts.