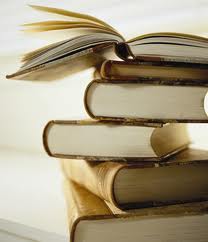 For those who are back in school and reading lots and lots, or those who don't like reading entire books, or find CliffsNotes too much 😉  you might enjoy a break at this website DH forwarded to me featuring mini book summaries of the classics – the emphasis here is on the mini!
The main site is http://www.rinkworks.com/bookaminute/
The Classics: http://www.rinkworks.com/bookaminute/classics.shtml
For example:
The Confessions of St. Augustine
By St. Augustine
Ultra-Condensed by Annie Berke
St. Augustine: I was a bad boy. Damn, was I a bad boy. Not anymore, though.
THE END
Or:
Hamlet
By William Shakespeare
Ultra-Condensed by Adrien Arnold
Hamlet: Whine whine whine…To be or not to be…I'm dead.
THE END
Or:
The Collected Work of Edgar Allan Poe
Ultra-Condensed by Samuel Stoddard and David J. Parker
Some Guy: Oh no. I'm buried alive!
Narrator: I died.
Raven: Nevermore.
THE END
Enjoy!
You may also like Six Word Novel, Antique Bookstores in Paris and Dancing Isuzus in Paris.