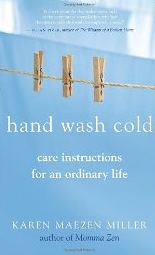 As someone who reads more theology and books on spirituality than the average person – it's wonderful to be able to hold up extraordinary books in this area. Especially since there is so much in bookstores that isn't very good.
Hand Wash Cold: Care Instructions for an Ordinary Life by Karen Maezen Miller (New World Library, 2010) is about as deeply spiritual as you can get. Miller is a seasoned, spiritual writer in the Buddhist tradition who understands that "your life is your monastery" – a phrase from the book that I loved and remembered. It sums up her understanding of life.
If you have ever thought that it was necessary to get away to another world, maybe a monastery, in order to deepen your spiritual life – reconsider that idea. In a world where most theology and spiritual writing has been done by men in religious life, Miller uses real, ordinary life, even laundry – something most women know well – to lift up the transcendence of our existence found right in the most ordinary aspects of our everyday lives.
Just consider her chapter titles – Toughest Stains: Getting Out the Traces of Self or Spin Cycle: Changing the Ending. I smiled just reading them!
"Ever found yourself up to your elbows in the messy stuff of your own everyday life and wondered, 'Is this all there is?' Karen Maezen Miller answers that age-old question with a resounding 'Yes.' Read this deceptively simple, deeply wise little book not to change your life but to fall quietly, unequivocally back in love with the life you already have."
— Katrina Kenison, author of The Gift of an Ordinary Day
Yes, this is it exactly – "fall . . . in love with the life you already have." Miller writes clearly and with insight. This is a book you will want to reread and then give to someone else, as I did.
Our spiritual lives are not separate from our secular or everyday lives – rather our deepest spiritual life is present exactly in the midst of our daily life. It is we who are not present to the transcendent always with us.
The question is, "How do we become present to the sacred?" Miller's Hand Wash Cold is a delightful guide.
You may also like Babette's Feast, Come to the Feast and Labyrinths.