The truth is that I don't enjoy gardening that much. But I've learned that it doesn't take a lot of effort to make an attractive small patio garden. A chair or two, a few colorful plants in various containers, or maybe just a large clay pot with herbs.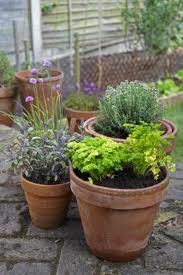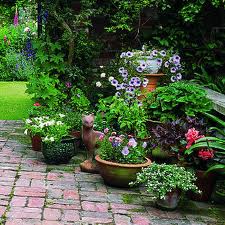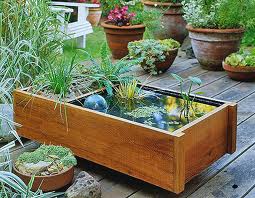 Above, a planter with water plants and a few terracotta pots create an enchanting summer space.
Last year DH made a simply designed 3-square-foot raised garden. We planted greens, peppers, tomatoes and herbs. The bare wood design gives it an Asian zen-like appearance. It also provides some privacy on one side of our patio.
This year we continued the Zen theme. Our patio is a small space that is partially shaded by the deck above. A few carefully placed pots of flowers and herbs bring color, scent and texture – not only to the patio, but into the living room as well. Viewed from the inside, it feels like a secret garden.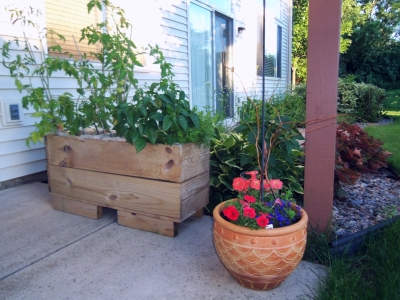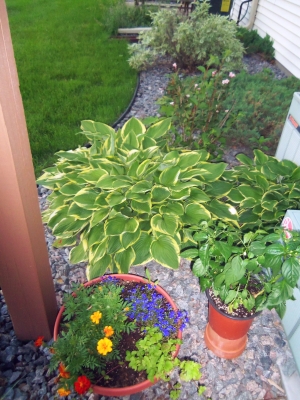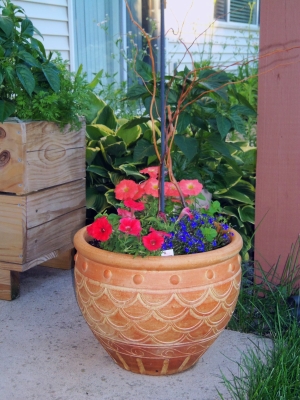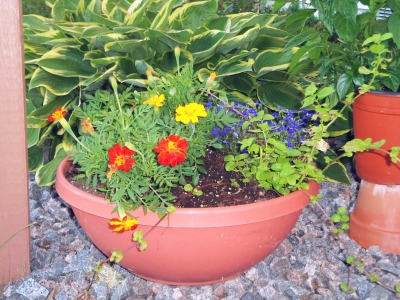 Use bricks, stones and upside down pots, seen above, to create texture and varied heights. I like our mix of perenial hostas, junipers and flower shrubs. These were already planted and return each year on their own.
DH, who enjoys gardening, selected the vegetables for the 3-foot square planter. This year we have three varieties of tomatoes, peppers of various kinds, onions and carrots.
My part consists of selecting attractive flowers and herbs in two large pots. I go for color, scent, texture and varied height. Some years are better than others.
Now add a hurricane candle for evening atmosphere. Mix with iced tea, sit back and watch the sun set.
You may also like Small Space Living – Boat Style, Citron Presse and Homemade Ginger Ale.