What's more American than the front porch? You may remember that I thought it would be nice to have a porch on the front of our townhouse. Well, we don't have a front porch, but we do have a room that faces east at the front of our townhouse. It also has a large window that brings the outside in – much like a sunroom.
While it serves as an office, it would be nice to use it more often. It could be an afternoon reading space, a morning coffee space or an evening tea space.
Here's my inspiration photo.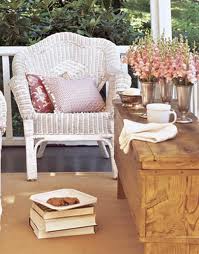 What do I like about this porch? The chair and table are the only furniture. It's simple. It's relaxed. There's not too much here. Flowers add a summery feel. I like the white and honey-color wood.
Giving our room a "sun room" feel will encourage us to use it more often – perhaps for evening tea in the summer or for morning coffee in the winter. Lighter, brighter, more casual decor will be the enticement. Again, I want to use items I already have.
I'll only use what we already have. First a comfortable chair, side table and lamp for evening use. Next add a plant or two, a pillow & cotton throw in bright colors.
Before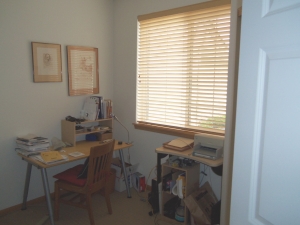 After with cool summer colors –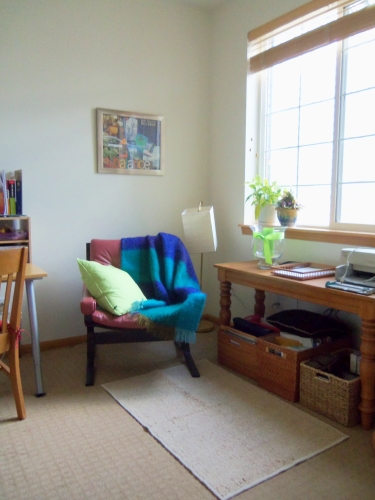 After with warm autumn colors –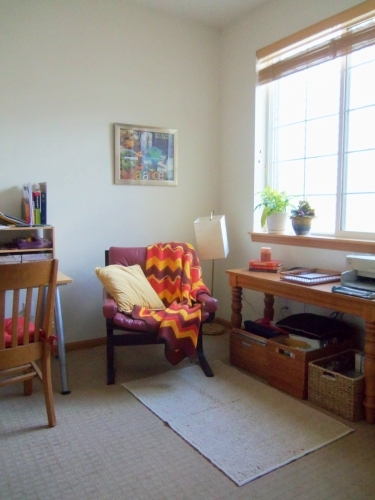 It's coming along. Wicker baskets we had went a long way to organizing the office supplies. The pine table and green plants (moved from the living room) add warm color and life. The chair (my favorite and really comfortable) and lamp make a nice reading spot and the cotton rug feels good underfoot.
It still needs something on the wall above the desk, however. We'll have to see what goes there . . .
Meanwhile, it's brighter, more inviting. It's a nice coffee spot. We've already been using this space more often.
Cost so far = FREE.
You may also like Romantice Entry Before & After, Romantic Living Room Before & After and Romantic Porch Inspiration.