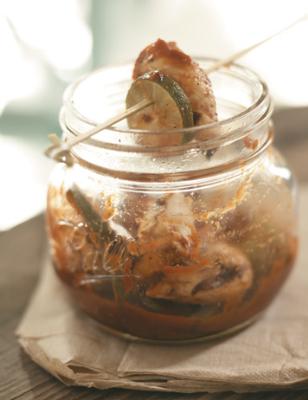 It's always fun when you can find an idea that is really a base for other imaginative variations. Here's just such an idea:
Walking Chicken BBQ from FreshHomeIdeas.com Easy, neat, portable.
Using a small, wide-mouth mason jar, serve BBQ chicken with wooden cocktail skewers, outside on the patio. Add a beer or sangria and it's a relaxing evening with friends (Fresh Home Spring 2010).
This idea is a great platform for other ideas –
Why not grilled shrimp with pineapple and lime?
Or yellow and red cherry tomatoes, fresh mozzarella cubes or bocconcini and basil?
Or chicken breast cubes, mandarine orange slices and pitted Kalamata olives?
Or Spicy Italian sausage and peppers?
Or. . .
Walking ice cream sundaes? Sweet.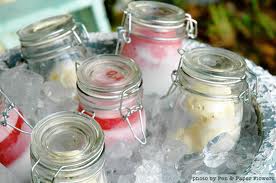 Here are two other platform ideas – No-Cook Marinera & Pasta and Picnic in a Jar.