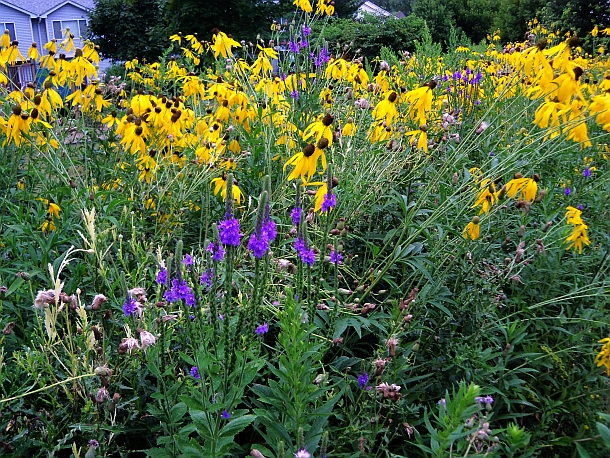 These last few days of summer vacation before school begins allow for some relaxation and reflection. Recently the prairie in our development was mowed. While it was growing, we could see how butterflies, fireflies, hawks, chipmunks, rabbits, and birds of every color made the prairie their home. Until the prairie returns I'll miss its color, scent, green coolness and soft textures. The prairie was an entire ecosystem – all interconnected and interdependent – the way our planet is interconnected, but in miniature.
We are a part of this interconnectedness and interdependence. Our health depends on the health of the planet and all the species who exist within its biosphere.
The lie of our culture is that we are somehow separate, competitive individuals. Ancient wisdom and modern science tell a very different story. Greed and violence happen when we are less than human. We are all interconnected and interdependent. Our natural inclination is to cooperate, to support, to care and to collaborate. This is what indigenous cultures have known for thousands of years. This is what the world's major religions teach.
Because we are interconnected, those who suffer elsewhere on the planet are a part of us. The suffering of others hurts us in ways that we don't yet understand – but nevertheless it hurts us – even if it is because we may become callous to its existence, our hearts hardened.
Our inability to care for ourselves, each other and the entire planet happens when we are less than who we are meant to be. This inability to care is the root cause of violence on every level – verbal, emotional, psychological, spiritual and physical.
Love and care begin within. Health begins within. We must learn to speak kindly to ourselves within our own minds. We must learn to fully respect our bodies and minds. Eat and drink only what brings health to every cell. Watch and participate in activities that inspire, delight and challenge.
We can endlessly shape and change our minds, bodies and relationships. One practice is to start each day by making just one choice that is healthier than before – either physically, emotionally, spiritually or mentally. After just two weeks a change can become a habit. Justice begins within.
Those made poor also offer us a chance to open our hearts and grow. They offer us an opportunity to change – to become engaged, to learn about how we create poverty. Those made poor offer us a way to become healthy by becoming more connected, more compassionate, more fully human.