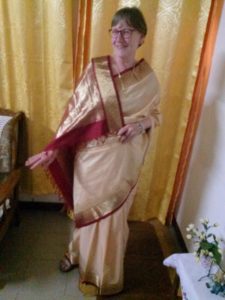 The religions of Mauritius are primarily Hinduism, Christianity and Islam. In the neighborhood where we stayed on our recent visit we notice the Hindu temple, a mosque and St. Anne's Church all in close proximity. We could hear the call to prayer from the mosque, the bells from the temple and the tolling bell of St. Anne's throughout the course of any given day.
People of all three religions share a neighborhood, live next door to each other, share in each other's life events. That is how it happened that we were invited to attend a nearby Hindu wedding by friends of our hosts.
Thanks to the generosity of another friend, Maria, we were gifted with traditional clothes and I also received a beautiful gold and red sari. It has 5 1/2 yards of fabric – but it's silk – so it was very light and comfortable to wear. I'm not sure I could wrap it up myself – although, Maria did it quickly and easily.
The saris at the wedding were magnificent, with each sari more beautiful and ornate than the previous one. Women wore flowers and jewels in their hair, necklaces that draped down the back as well as in the front. Colors that were spectacular – eye popping – think bright turquoise silk bordered with fuchsia or emerald green rimmed in rich purple! Each woman there looked like a queen. Now imagine hundreds of guests. Live music.
Sit-down tables allowed dozens of guests to be served dinner at one time. As guests arrived throughout the evening they were seated at the tables. Seven different curries were served placed around on mound of rice on a place mat that looked like a banana leaf. Originally they used banana leaves. We used naan bread and our fingers to eat the rice dipped in curry. So different – but yum!
After dinner guests mingled, talked, greeted friends and family. A Hindu wedding is an impressive experience. I'm so glad we that the chance to attend.