Traveling is always an amazing opportunity to learn and grow. I like to travel – but I prefer travel with a purpose. Almost two years ago I visited Slovenia in order to present a paper at a conference – and to learn about Slovenia and Slovenians. This year I had the opportunity to travel in order to teach and to learn as well.
Recently, we visited the nation of Mauritius thanks to a generous invitation from our good friends, Marcel and Marceline, who live there. Where is Mauritius you might ask? Mauritius is east of Madagascar – the large island off the eastern coast of Africa. Go east of Madagascar to Mauritius – a small island in the middle of the Indian Ocean.
Traveling to Mauritius requires two very long plane rides. The first half of the trip is an eight-hour plane ride to Paris (or Amsterdam) and the second is a twelve hour flight to Mauritius.
Situated in the tropics, near the equator, Mauritius was just beginning its winter season when we were there – end of March, early April. Nevertheless, it was quite hot and humid by our standards – although this was relative. It was perceived as cooler by those who live there, compared to the even hotter summer temps.
Our hosts live in the area of Rose-Hill outside of Port Louis, the capital city. This is the northwestern area of the island. Breadfruit, sour sop (tastes like a passion fruit, a very large passion fruit!), bananas and more grew in the courtyard area of their house. In addition, Marceline created a beautiful container garden along the stairway up to their front door.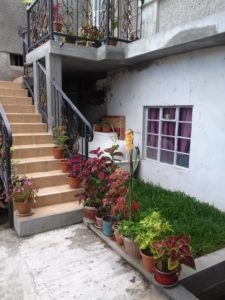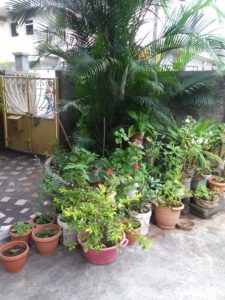 Come along with me as we explore the country of Mauritius.
You may also like Jerusalem by Night or Welcome to Switzerland!