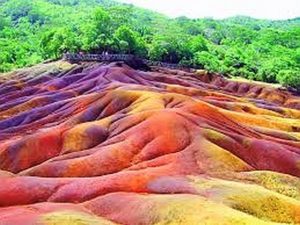 Mauritius, 2017
Survival Requirement: Embracing Diversity
Dr. Roxanne Meshar, M.Div., D.Min.
Thank you for your invitation and generous hospitality! Also I'd like to thank Mary's Pence (maryspence.org) for their endorsement letter and ongoing support of my work. It is an honor for me to be here with all of you.
My professional background is posted here.
In order for participants to more easily view or translate my presentation (using a smart phone), the presentation slide text follows.
Creator Spirit
Help us respond to our call to be members of one family.
Guide us to constant peaceful concern for sisters and brothers throughout the world.
Make us mindful of the needs of those who endure the injustices of war, hunger, poverty,
that we may live in harmony and unity with others.
Renew our commitment to our global family.
Beyond Borders, Catholic Relief Services
There is no "objective" reporting or writing
Every article, book, report has a point of view – cultural, historical, linguistic, geographical or psychological
The question:  is the bias disclosed?
Whose story
and how we tell it
History of American First Nations
History of chattel slavery in North America
Who decides? Who benefits?
Learn how to identify events and systems
Creating a system of under privilege and over privilege in the U.S.

Representative government benefits elites
Pay for education with property taxes

Always ask, "Who benefits?"
Wealth transfer and poverty creation in our time
Inequality in pay creates generational poverty
Charity – who benefits?
Unregulated capitalism allows unethical businesses to monopolize industries, create laws for their own benefit
What to do?
Help build awareness and empathy "muscles"
Develop and enrich our own personhood through engagement with those who are different
Exercises can build diversity awareness and empathy
Identify our own social location
"Simon Says" or My View games
Games can teach values of sharing, cooperation, inclusion
Embracing diversity is not optional – it is required for our survival
Diversity creates cultural richness
Increases our curiosity about others
Builds awareness, empathy, resilience
Develops our personhood, humanity
Is a critical survival skill
Embracing diversity:
Informed by Christian Doctrine of Trinity
Political, subversive, dangerous
Yet essential for our survival and the survival of our planet
Workshop
Demonstration of fast, easy exercises for all ages
Helps to develop empathy and compassion "muscles" for life
Thank you. Merci.
The Workshop: Here you will see demonstrations of fun, quick and easy exercises that help build compassion and empathy (collected over the years and around the web) –
Simon Says uses the childhood game of the same name to show that not everyone begins life with the same advantages.
My View allows us to learn from points of view different from our own.
Stand Where You Stand – for now. Our opinions and ideas are always changing.
Describing our social location reminds us that our point of view is quite limited!
Popular games can also be a source of learning. Prophetopoly (by Jeff Dols, Monopoly in reverse), the game of Life and others can be played with the same rules, but the objectives are changed so that all are cared for. This helps build cooperation, compassion, empathy.