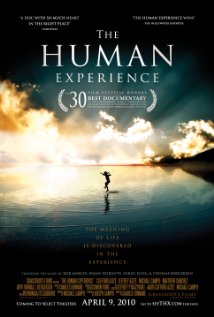 Recently I watched the movie, The Human Experience. This is a remarkable film that addresses the profound questions most of us grapple with, because we are human; Who am I? Why am I here? What does it mean to be a human being? What is the meaning of life?
In the film, which is a true story, two brothers in their twenties dive into life. Although they come from an abusive home, they know that their difficult childhood does not determine who they are nor who they can become.
So they embark on a new journey. They live on the streets of New York with the homeless. They travel to Peru to surf for charity and to work with abused and disabled children. Finally they travel to Africa to visit a leper colony.
It is through their journeys that they meet and develop deep relationships with those who are different from themselves. They allow themselves to be opened and changed by those they meet. They listen and learn how a lack of material things doesn't diminish one's happiness and joy in life – quite the reverse. They watch and see how suffering, when it occurs, is used to bring hope rather than despair – that in fact, despair and depression are illnesses – not the result of suffering.
In their travels the brothers learn that moving lightly on the earth places the focus squarely on others – where it needs to be. A small suitcase is all we need. Cocooning ourselves in large homes, trailers or a "home on wheels" insulates us from others, from relationships and from experiencing life as it really is.
Rather, when we connect with others in deep, healthy relationships we become all that we are meant to be.
This film underscores the joy of life and, that regardless of our circumstances, each unique life is of value, it is worth plunging into, and it is a gift.
Everyone should see this film.
The movies, Motorcycle Diaries and Celebrate What's Right With the World by Dewitt Jones are other powerful films that examine core questions about life and who we are.
You may also like Divine Chocolate, Love and Romance, Babette's Feast and Life of Water; Water of Life.