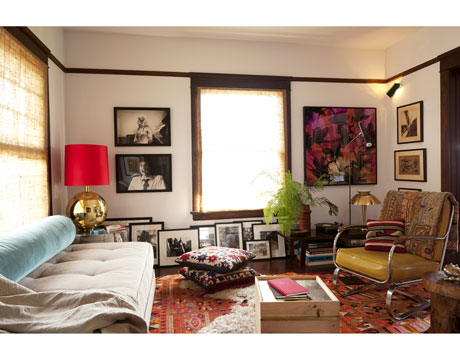 Two twin mattresses (8-10 inch height) covered in painters' cloth linen and tufted, plus one plump bolster equals one great sofa. It also serves as a bed or even two guest beds.
While the contrasting color for the bolster is a good idea, the bolster should be twice as large in diameter. This way the seating space and back support would create a real seating option.
Creative idea.
One more sumptuous option from Caravane below. This is definitely a DIY option. Anyone who collects vintage blankets or quilts could fold and stack them quickly and easily on a long coffee table, covered platform or bench of your choice. Wouldn't you love to take a nap here?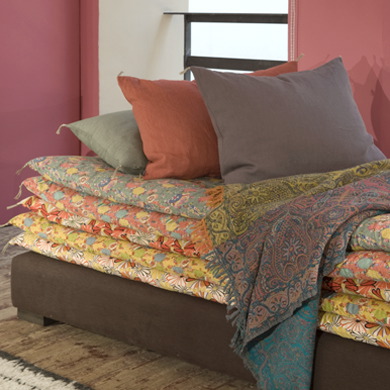 Here's a fun idea by Hillary Thomas that could be use for a futon or daybed too. It could also re-purpose a quilt or matelassé cover. Add quirky pillows and voila!
The reason people are so creative with regard to sofa beds is because the furniture industry is deeply asleep. They have yet to figure out how to make an inexpensive, attractive and comfortable sofa bed. Actually they have yet to figure out how to make in expensive, attractive, flexible furniture in general. This is not rocket science, as you can see in the pictures above. It is inertia and complacency. Read more at this post: Our Furniture Moves Around.
You may also like Romantic Bedroom Before & After.