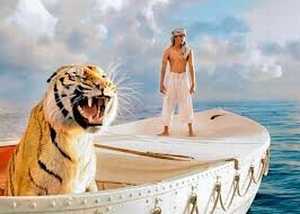 Yan Martel's book – now movie, The Life of Pi is an exciting and entertaining story. But better still is the question proposed to the viewer at the end: which is the better story?
For belief in God, the viewer is encouraged to ask the same question – which life is the more exciting, intriguing, compelling life? The one with the viewpoint embracing belief in God or the random life, purposeless life without God? And it's not simply intellectual assent to the existence of God that is being asked here. What is being asked is our willingness or capacity to trust, thereby flinging ourselves headlong into life itself – with all of its unknowns and all of its risks.
For myself, I couldn't imagine returning to life directed my own vision or desires. That was too small, too gray, too safe, too hopeless. Life directed by existence or reality itself (God if you will) is far more exciting, colorful and bewitching than anything I could have dreamed up. Once you taste champagne and caviar . . .
You may also like Tasting Caviar and Journey of the Universe.