We live in a very small townhouse – more like a doll house really. Compared to the other homes I've lived in, it seems small, compact, efficient, easy to clean — and easy to decorate – or redecorate as the case may be.
You may recall that last year I revamped every room with an update – mainly using what we already had.
Our kitchen is dated looking, mainly due to the hunter green counter tops. Most often people will remark, "Just get a new counter top." But there is nothing wrong with this counter top. To spend a ton of money just to change the color is a waste of resources. If I could afford to change a counter top just to change the color, that money ought be going to Mary's Pence or another deserving organization. This is the reason we live more simply – to free up resources for those made poor by the policies of over-developed nations like the U.S.
Instead, better for me to get creative and think of something cost effective that works.
So . . . what do you do with a hunter green counter top? Is there anyway to update hunter green that looks fun and contemporary? I've tried bright orange, soft yellow and sage green. They were OK but nothing special. Today I tried something a little edgy on the back splash – a bright, yellow-green called "tangy apple." It's fun. Goes with cobalt blue glass mugs DH loves. We hung the mugs on a rail under the cabinets (Grundtal from IKEA). A soothing light grey ("silver cloud") was painted above and wraps around the snack bar. Love the more contemporary feel. Take a look.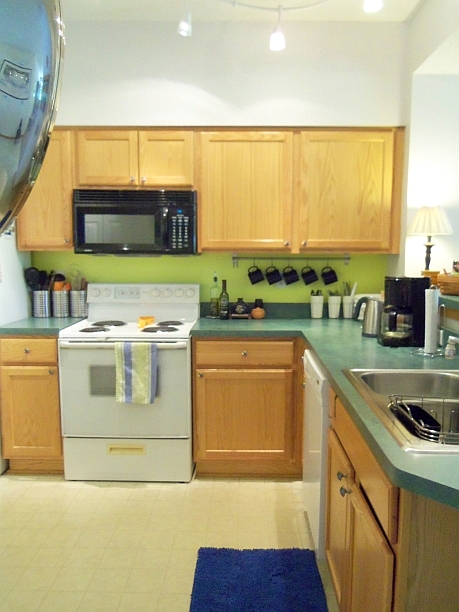 Meanwhile, switching out artwork in the living room along with two pillows and a throw (from another room) changes the feel of the living room. I added some candles for autumn.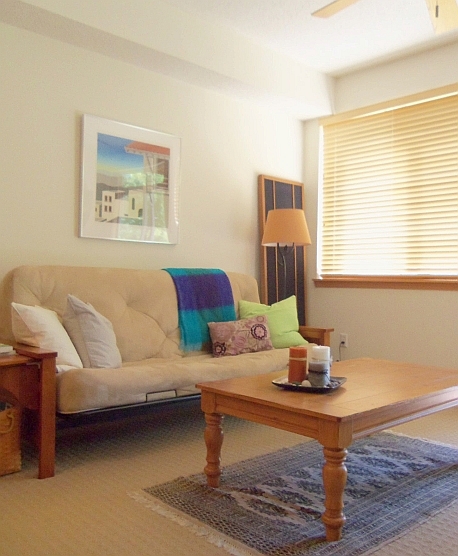 Changing things up keeps them fresh – at least to my eyes. It's also a way to be creative and see immediate results. For those of us who almost never get to see immediate results from our work, this is a welcome change.
You may also like Simple Living and Romantic "Porch" Before & After.