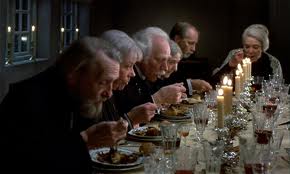 Babette's Feast (same name as the film) came about when I and two friends decided to prepare an autumn feast. One of us (not me;-))lived in a large, old, Victorian home in Hyde Park, Chicago.
We invited family and friends. I remember that my brother and his kids were visiting Chicago and joined us. We created a menu of autumn foods. Everyone was asked to bring one ingredient. No one knew what their ingredient would be used for.
When everyone arrived, guests were asked to help chop, slice, and prepare the food. People who had never met found themselves sharing a cutting board and cooking together. Apples were peeled. Pies were assembled. Chickens and vegetables were roasted with garlic, lemons and herbs. Rolls were baked.
Layers and layers of linens draped the table. Squashes, pumpkins, and if I recall, wheat, candles and bread decorated the center of the table. We even found Limoges china in a hidden cabinet in the dining room! We used it. Cloth napkins and wine glasses were carefully placed.
We all gathered. Candles were lit. Wine was poured. Thanksgiving was offered. Food was shared. Incense was burned. Cello, voice and piano entertained everyone afterward. It was an amazing dinner. An amazing evening.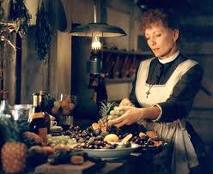 Over the years I continued to plan Babette's Feasts. I have organized dozens of Babette's Feasts with many diverse groups of people. The menu has been completely different each time. Seasonal and local food is used whenever possible.
People come, prepare, share a meal, celebrate and are changed. Many experience the healing of being with a healthy community for the first time in their lives. It is always a powerful experience.
It is lavish. It is extravagant. It is elegant. It is simple. It is not expensive. But it is eucharist, thanksgiving, hospitality experienced in a very profound way. It nourishes the body, refreshes the spirit and renews the soul. God is made present and She is smiling!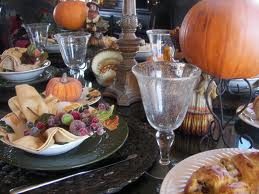 Some of the best ways to get the feeling of Babette's Feast is to watch the movies: Babette's Feast, Chocolate, Amelie or Like Water for Chocolate. Some books that are fun and uplifting to read along the same line are The School of Essential Ingredients by Erica Bauermeister and the classic, Like Water for Chocolate.